It was back to the doctor yesterday for another check of the babies. The babies are doing well. They all had normal heartrates (A - 167 bpm, B - 141 bpm, C - 163 bpm) and are growing a lot. Based on the measurements they took yesterday, the estimated baby weights are A - 1lb 15 oz, B - 1lb 13oz and C - 1lb 14 oz. Each one is almost 2 pounds so that's about 6 pounds of total baby. That puts each baby around the 50th percentile in size. The doctor seemed happy that they are growing that much.
While I was at the doctor I had to take glucose screening test to check for gestational diabetes. I have to wait to get the results from that test. I also have to go back to the hospital today for an ultrasound of my leg. They want to check the leg that was swelling to make sure there isn't a blood clot in there.
Here are the scans from yesterday.
Baby A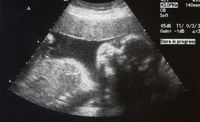 Baby B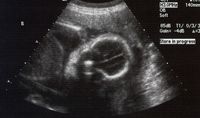 Baby C